Policy
Oaks childcare provides a stimulating environment where the children can play freely using a variety of indoor and out door equipment within the setting. We do operate a key worker system which means your child will be allocated to myself Mary Peto or Katy Ruiz Aguilar to support their individual needs. This will give you an opportunity to share information about your child, and in the future for us to relay the progress made at our setting and for you to share their progress and interest at home.
We feel all children need to develop their own individual personalities and be given the opportunity to play and mix with other children of all ages and abilities and become familiar with other adults other than members of their family, this is an important step in their development and in preparing for school. We believe learning through play is the best and most natural way for a child to develop and progress, our early years plans do reflect this. All weekly plans will be sent via email and displayed in the play room for you to dicuss with us should you want to.
From September 2012 the introduction of the new 'The Early Years Foundation Stage' (EYFS) document was put in place for all practitioners to use, this document continues to support children in their earliest years, from Birth to Five years old.
Procedure
A broad and balanced curriculum is planned and provided to enable all the children, including those with special educational needs and disabilities to progress towards the Early Learning Goals. See development matters.
While in our setting there are opportunities for learning within the three Prime Areas: Personal, Social and Emotional Development, Physical Development, Communication and Language from birth to three and as your child continues to boarding their development, at the age of three they will begin their journey into the four Specific areas: Literacy, Mathematics, Understanding the World Expressive Arts and Design as well.
Every child will have a learning journal which is used to monitor their progress in Three Prime Areas and four Specific areas of learning, this will be sent home throughout the year, but you are free to ask for it at any time to take home and read, I hope you will feel free at any time to come and discuss your child's progress and education or any concerns you might have about your child.
The Early Years Foundation stage (EYFS) has given us a good understanding of how best to encourage young children to learn. The strong emphasis on play ensures that activities are meaningful to your children and fosters positive attitudes towards learning.
The Early Years Foundation stage (EYFS) is divided into four principle themes:
Each child is unique and is a competent learner from birth.
Positive relationships ensure that children learn to be a strong and independent.
Enabling environments play a key role in extending learning and development.
Learning and development takes many different forms and all areas are connected.
The EYFS frame work acknowledges the importance of the environment both in doors and out and the planning in our setting reflects this. The Children are provided with an extensive and varied range of activities during the day. They are able to move with independence and make free choices. Our planning is divided into three aspects: long term, medium and short term, and covers the six areas of learning.
Seven areas of learning are:
Prime Areas: from birth to three:
Personal, Social and Emotional Development. Making relationships Self-confidence and self-awareness Managing feelings and behaviour.
Physical Development. Moving and handling Health and self-care.
Communication and Language. Listening and attention Understanding Speaking.
As child continues to boarding their development, at the age of three they will begin their journey into the :
Four Specific areas
Literacy Reading Writing
Mathematics Numbers Shape, space and measure
Understanding the World People and communities The world Technology
Expressive Arts and Design Exploring and using media and materials. Being imaginative.
To find out more detailed information about the (EYFS) areas of learning visit here
Planning
Long term plans
Ensure that all the areas and aspects of learning are covered within the Early Years Foundation Stage. Throughout the whole year these plans are flexible and incorporate the ethos of Oaks childcare setting we then use them as a guide for our medium term planning.
Medium Plans
Our medium term planning helps us plan for specific events that are going to happen every four to six weeks. These cover all areas of learning. These plans will be discussed with your child where applicable and you as parents and carers.
This planning will then filter through into our short term plans which allow us to support your children's individual needs and build on their interest e.g. if your child is interest in dinosaurs these toys will be added to the sand, water and garden to support all areas of learning and so offer your child a broad and balance curriculum built on their choices fascinations and interests. Your children will help us implement focused activities which will help develop their personal learning plans and next steps which will be recorded in their individual progress files.
Short term plans
Our short-term plans are fluid; they are used as a baseline so the children in our setting have the opportunity of a broad and balance curriculum. These are changed and adapted when needed. The key person system and effective planning ensures that your children's learning is promoted in all areas, and that they are provided with a stimulating environment which encourages them to explore and investigate.
Key person system
We will be operating a key person system which means we will be responsible for keeping your child progress folders up to date and plan appropriately for their individual needs. These plans are discussed with the children during the week to allow them the opportunity to plan what they would like to play with, These plans are used as a structure to underpin the individual learning needs of each child and are planned, assessed and adapted by us to enable the children to work towards or achieve their early learning goals. The short term plans also allow us to complete observations and plan and record the children's next steps.
Through careful planning at our setting we will create an environment both indoors and outdoors that encourages play and representational exploration, in all seven areas of learning. We always encourage and build on the individual interests of the children, through a variety of resources so the children become excited and motivated in their own learning.
Our out door area extends our provision so your children have the freedom to explore their world, in an environment which they might not have access to at home. Your children will have the opportunity to grow their own vegetables explore the natural world of tadpoles frogs and fish which offers those children without a garden a rich environment in which to explore and learn.
We will provide every opportunity which is available in doors into the out side area. The out door environment is reflected in our long term, medium and short term plans and can be adapted depending on the weather, health and safety is always a major concern.
We know how important it is for your children to have the freedom to access equipment independently and then have the appropriate adult support and guidance when needed, We acknowledge that adult support is important and crucial in all areas of learning and development.
After school care
We are happy to supervise home work where applicable, but as we are not the children's teachers it is important that you oversee your child's homework so you as their parents are fully involved in their education and their progress while they are at school.
Holidays
All the children will have the opportunity to be fully involved in fun play and craft activities go on outings and attend local visits to parks etc.
Please remember that if your child does not come home with a made activity it dose not mean they haven't done anything that morning, it means they have made new friends, learnt to share and take turns, worked together, learning songs, rhymes, investigating, exploring, solving problems, involving themselves in all areas of learning.
It is widely recognised the vital role that parents have in supporting their children's learning and development.
For more infomation to support parents understanding of the EYFS, there is a document called What to expect, when? A guidance to your child's learning and development in the early years foundation stage.
Progress check at age two
At oaks child care between the age of two and three, we will review your child's progress and provide you the parent and/or carers with a short written summary of your child's development in the prime areas to leaning.
This progress check will identify your child's strengths, and any areas where the child's progress is less than expected.
If there was significant concerns, or an identified special educational need or disability, we would put in place a development targeted plan to support the child's future learning and development, possibly, with your permission involving other professionals.
Copied from "Know How Guide The EYFS progress check at age two".
Section 1: Introduction
1.1 What is the progress check at age two?. The Early Years Foundation Stage (EYFS) requires that parents and carers must be supplied with a short written summary of their child"s development in the three prime learning and development areas of the EYFS: Personal, Social and Emotional Development; Physical Development; and Communication and Language; when the child is aged between 24-36 months.
1.2 What is the purpose of this document?. The EYFS sets the standards for development, learning and care of children from birth to age five. All early years providers are required1 to follow the framework from September 2012. 1 Unless the Secretary of State has granted an exemption from some/all of the learning and development requirements This document is intended to support practitioners within early years settings who are undertaking the EYFS progress check at age two. The progress check has been introduced to enable earlier identification of development needs so that additional support can be put into place.
1.3 What should the progress check cover? The EYFS Framework does not require the progress check to be completed in a prescribed or standard format. It only specifies that information about a child"s development should be provided to parents in the prime areas of learning and development of the EYFS. This document provides some examples of how practitioners currently provide information to parents. Its aim is to stimulate ideas for how practitioners might approach the progress check.
1.4 Development Matters Development Matters sets out children"s developmental progression across the prime and specific areas of learning from birth to five years. It offers helpful material for practitioners to: inform and support their assessment judgements of a child"s development in the prime areas identify if there are any areas in which a child may be developing at a faster or slower pace than the expected level of progress for their age inform and support their discussions with parents and other professionals (where relevant).
Resources: For a copies of this document visit
For more information on two year progress checks visit
Oaks childcare has become a member of the Forest child care association. Some of the information in this document taken from our Business Tools for Forest Childcare pack.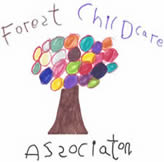 Forest Childcare is based on ideas practiced by Forest Schools, originally a Scandinavian childcare movement that is growing (if slowly) in the UK. Forest Schools are nurseries and primary schools where for a few hours each week the children spend the morning learning and playing in a forest environment. True Forest School sessions are run by Forest School Level 3 Practitioners who are trained to guide the children while they spend time growing to love and appreciate the woodland environment. Unfortunately, while forest schools are a fabulous opportunity for children, they are few and far between, and the vast majority of small children today grow up with very little exposure to 'wild' places.
However, Forest Childcare goes one step further. It is founded on the principle that once a week small children should be given the opportunity to spend time in outdoor places by being taken on outings to parks, fields, play grounds, woodland areas, forests and wild spaces so that they can learn to appreciate the natural environment. As child minders and nannies we are in an excellent position to provide small children with these types of experiences – many of us already do. Forest Childcare is about actively and purposely taking children to outdoor spaces.
Forest Childcare is about offering children more than just back gardens and the school run to provide them with their daily dose of EYFS-required 'outdoor time'. Forest Childcare is about giving the children the opportunities to explore outdoor places for themselves. Getting muddy and dirty without any worries!!!
The Outcomes of Forest Childcare
There are many positive outcomes that can be achieved for children by Forest Childcare outings and these are directly linked to all areas of the EYFS. These benefits range from the health benefits of running around in the great outdoors, to improvements in emotional wellbeing, as well as learning an appreciation for the environment that they will carry with them into adulthood. Don't forget that most of these benefits also apply to you!
Forest Childcare can help to:
Teach children to appreciate trees, fields, ponds and woods by spending time in the natural environment.
Improve emotional and physical wellbeing of children and the adults who look after them.
Improve children's concentration, perseverance, cooperation and motivation skills.
Help children to stay fit and counter obesity because children move around naturally outdoors while they play.
Get fresh air and vitamin D from the sunshine.
Let off steam.
Access the therapeutic and stress-relieving effects of viewing natural scenes.
Improve children's social skills and language (older children helping younger ones, or cooperating to help each other to drag a piece of wood).
Provide opportunities for developing harmonious relationships with others, through negotiation, taking turns and cooperation.
Improve physical skills, build muscles and opportunities to practice running and balancing.
Build knowledge and understanding of the world.
Stretch their imaginations, inventiveness and resourcefulness.
Encourage children to take sensible risks. Would she believe that this tiny conker could grow into that enormous tree?.
We hope by Oak child care joining this great organisation, it will give us an even better insight to many more different activities we can do in the great out doors with your children every day.